Every writer who congregates with other like-minded individuals has, at one time or another, taken part in a writing prompt exercise. Each person is given the same scenario or the same words to use, and asked to make up a story about it. It constantly amazes me that no two stories resemble each other, since they started at the same spot.
We are living in uncertain times these days, and, as authors, we tend to migrate to what makes us most comfortable. We write about what we are all experiencing. Seven of us romance authors have come together to write short stories about finding love in the midst of an pandemic. Love In The Time of Corona, Vol. 2, is now available for pre-order here:
https://readerlinks.com/l/1090345

Here's a taste of what you'll get:
Defending the Tycoon's Daughter by Kristi Avalon
Escaping a threat against her wealthy family and the pandemic sweeping the country, Talia Hudson finds herself in an isolated mountain retreat with her handsome, aloof bodyguard. A scandal in Brett's past gives him good reason to avoid Talia yet he can't deny the attraction sparking between them. Will one night of passion lead to regret - or is he ready to risk it all for love?
Shipmates by Chloe Flowers
After a house fire destroys everything she owns, Tara needs a temporary place to live. In a weak moment, Officer Scott Merrick offers an unorthodox solution: sharing a cabin on his boat. Since he works the graveyard shift at night, and she runs the kitchen in her restaurant during the day, they'll be like ships passing in the night, which is fine by both of them.
They begin communicating by writing notes to each other.
In the time of corona, it's probably a bad idea to fall in love, but what if they are soul mates as well as shipmates?
Viral Dance by Sheridan Jeane
Free spirit Lily Lennon and CEO Josh Graves are opposites, or are they? When they're thrown together in a cabin on Mt. Rainier following the coronavirus outbreak, she's determined to have him to teach her to waltz. Can these two dance their way into one another's hearts?
Choosing My Own Bananas by Becky Lower
Single senior Claire ignores her sister's advice and decides to take advantage of her grocery's early Senior Hour to do her own shopping. Widower Bert can't believe his luck. The mysterious woman from the health club pool is right behind him in line. He and his friend refer to her as Esther Williams, but now he might get to know her real name. And hopefully a whole lot more.
Can social distancing actually bring people closer together?
The Royal Muse by Judy McDonough
New Orleans artist, Melody Landry, has had it with relationships and cheating men. She would much rather paint her frustration into money-making masterpieces.
Reece Thomas has had enough heartache for two lifetimes. He would rather drown his sorrows with his trumpet and whisky than give anyone else a chance to rip his heart out.
Love was the last thing on their minds—until they found each other.
Can the healing powers of music and art bring two bitter souls together in the midst of a pandemic?
Espresso, Paper, Love by L. A. McGinnis
A stir crazy actress charms her way into a young doctor's life from the neighboring apartment building. It's one thing to exchange notes and coffee in a crisis. It's another to deny their growing attraction.
Tipsy by Jen Sako
Furloughed from their upscale restaurant positions, server Barbera and Cavan, the restaurant's sommelier, discover a virtual connection. But can their wine-fueled, digital bond survive in real life?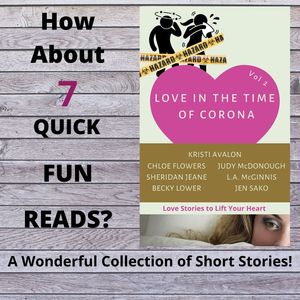 So, when you run out of those chores you've been putting off since forever, you now have seven delicious short stories to give you an ounce of comfort in this time of uncertainty. Here's the link again:
https://readerlinks.com/1/1090345
And, of course, every author needs reviews. If you have a moment, please write a review and tell other potential readers which of these stories you liked the best. These are short stories, so your reviews can be the same!